Sign up for the Current 93/Coptic Cat mailing list below:
tir.an.na ud nu-uh-šú mu.bí mar-ra-tum
meš-hu šá mul ki-šú ia-'-nu
Tue 21 May 2013
Youth
and I are OverMoon to announce that our new album together is now finished and is ready for imminent release. We both consider this to be one of the most beautiful, powerful and haunting works we have ever made. It is the first time Youth and I have worked together since 1983's
Nature Unveiled
. We will be announcing the name of the group and the album soon. We are also planning live appearances in which the album will be played in its entirety.
Tue 21 May 2013
CURRENT 93 now have a new booking agent for everywhere outside of North America. QuJunktions are now handling all booking for CURRENT 93 as well as MYRNINEREST, whom they were already handling. To book C93 or MYRNINEREST for appearances, please email Mark Slater: .
Tue 21 May 2013
My sweet and LongLongLong friend Fritz Catlin, with whom I worked in 23 Skidoo, and who was in the initial lineup of C93, has sent me some hand-held camera footage he took in 1982 which includes 23 Skidoo playing at the first ever WOMAD festival in that same year. Fritz has added sound from our performance there, as well as a small section of Les Maîtres Tambours Du Burundi, who also feature in the film. Fritz's YouTube channel hosts other 23 Skidoo-related material, as well as many of his other projects, including the hallucinatory Skintologists, who also have a SpaceShip here. Thank you Fritz!
Tue 21 May 2013
MYRNINEREST is EclipseMooned to announce she will be playing St. Petersburg's Kuryokhin Centre on Friday 6 December and Moscow's Moscow Hall on Saturday 7 December 2013. MYRNINEREST collage, using artwork by Madge Gill, by Giulio Di Mauro.
Tue 21 May 2013
My close friend and colleague Henry Boxer is putting together a major retrospective exhibition of the work of Madge Gill. It will run for three months, from 5 October 2013 to 26 January 2014, and will be held at Orleans House Gallery, Riverside, Twickenham, England. It will be the most important show of her work ever held. To be shown will be the Crucifixion of the Soul, a pen and ink work on calico, over 36 feet (11 metres) long and perhaps Madge Gill's masterpiece, as well as many other gorgeous works, including some from my own collection. I and Henry will be publishing a beautiful, and extensively illustrated, book of her work that will be published on my imprint "The Spheres". As many of you perhaps will know, Madge Gill is one of my favourite artists, and I have long collected her work. The name of her spirit guide MYRNINEREST also lent her name to my most recent musical project with James Blackshaw. A holding page for the exhibition is here, and I will be sending out updates to give more details as they appear.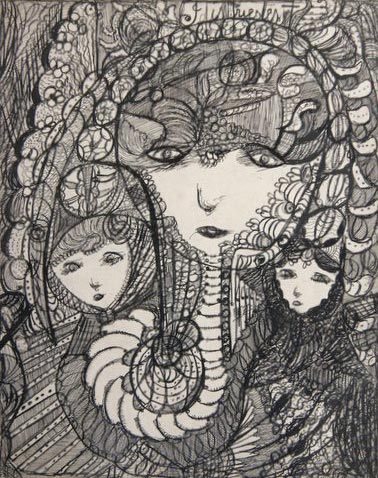 Madge Gill, Untitled c.1940 ink on card 30 x 25cm (12 x 10") (double sided). Henry Boxer Gallery
Tue 21 May 2013
After five years of work the Post Romantic Empire Album is finally ready. It is a concept album made of the sweetest songs, the saddest thoughts, played by an ensemble of 26 musicians and a children's choir. Roger O'Donnell (The Cure) and Julia Kent play the story of Sheherazade, Baby Dee and Little Annie and Andrew W.K. and many others jam 'The House of the Rising Sun', David Tibet and Annabella Lwin sing a version of 'Love Will Tear Us Apart' re-arranged by Matt Howden and produced by Andrew Liles and played by Peter Hook and many others, while the dub version of the same sing is sang by Larry Cassidy (Section 25) to whom this album is dedicated. Detailed information and explanations can be found on www.oursweetestsongs.com and the album can be pre-ordered at . The Post Romantic Empire album will be released on 25th June 2013. It is limited to 1001 copies, on vinyl only: a double LP and a 7" single. Once the edition is sold out, the title is deleted and it will not be printed again.
Photo: Ksenia Nefedova