Sign up for the Current 93/Coptic Cat mailing list below:
tir.an.na ud nu-uh-šú mu.bí mar-ra-tum
meš-hu šá mul ki-šú ia-'-nu
Wed 27 November 2013
We are OverMoon and FoxFaced to UTTER our dear friend the Hallucinatory and HoneyHowlThroated GhostPoet MacGillivray is C93's special guest at our Channelling of I AM THE LAST OF ALL THE FIELD THAT FELL on February 8 2014 at London's Union Chapel.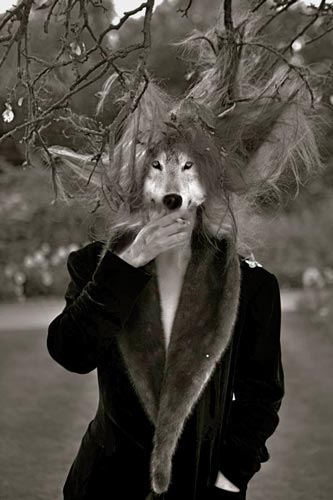 She has walked in a straight line with a dead wolf on her shoulders through the back streets of Vegas into the Nevada desert, eaten broken chandelier glass in a derelict East Berlin shopping mall, head-banged in gold mediæval stocks in Birmingham allotments, burnt on a sun-bed wearing conquistador armour in Edinburgh's underground city, breast-fed a Highland swan in Oxford and regurgitated red roses in Greenland. She remains the clan chief.
For more Seas and Stars about Her, please visit www.macgillivray.org.uk.
Mon 04 November 2013
We are as Linked as Kingdoms to announce more details of the new album, I AM THE LAST OF ALL THE FIELD THAT FELL, and the launch concert on 8 February 2014 for both the album and David's book of collected lyrics, Sing Omega.
The album's full title is I AM THE LAST OF ALL THE FIELD THAT FELL: A CHANNEL
My/our/her/his new album is 68, 69, 70 and 71 minutes long. More details on why it may hop and skip different Time to be announced, following Current Future instructions from behind the back of the bars of the BaalStorm PickNick. 
Its RELEASE DATE is 8 February 2014 at the Union Chapel. Its STREET DATE when it will be available in PickNick Emporii everywhere and nowhere is 3 March 2014 – two days before my birthday, which gives me time to juggle my Cats before CockCrow.
Channelling C93 as we sleep and dream and scheme in this LAST OF ALL THE FIELD in the middle of the midden of the Hallowe'en Roman Samphire Empire:
Jack Barnett: organ, sound design and voices
James Blackshaw: bass
Ossian Brown: hurdy-gurdy and sidereal SingSong
Nick Cave: voice and voices
Antony Hegarty: voice and voices
Reinier van Houdt: piano
Norbert Kox: voices
Andrew Liles: electric channel
Tony (TS) McPhee: acoustic and electric guitar
Jon Seagroatt: bass clarinet and flute
Carl Stokes: drums and percussion
David Tibet: voice and void
Bobbie Watson: voices
John Zorn: saxophone
Thu 17 October 2013
MYRNINEREST, edited by David Tibet and Henry Boxer, is the first book to be published solely devoted to Madge Gill and her work. There are two editions of the book, a STANDARD and a SPECIAL; the SPECIAL comes with a piece of original art by Madge Gill. MYRNINEREST is released in connection with the extraordinary Madge Gill exhibition that is being held between 5 October 2013 and 26 January 2014 at Orleans House Gallery, Riverside, Twickenham, TW1 3DJ, England, which we highly recommend visiting.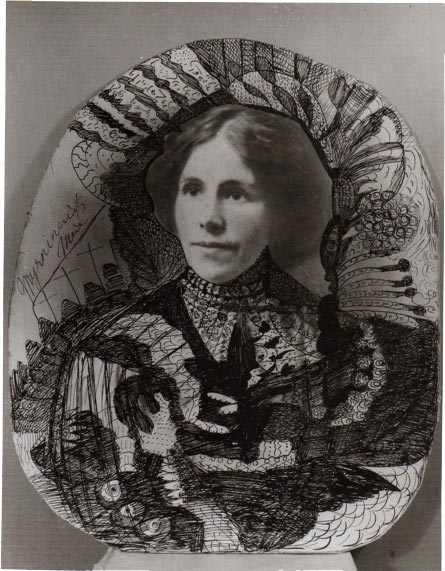 One of my greatest inspirations is the English visionary artist Madge Gill (1882–1961), who first started channelling her spirit-guide MYRNINEREST on March 5, 1919. I and Henry are OverMoon to publish this beautiful and evocative and haunted tribute to this amazing woman and her astonishingly moving work.
This book presents reproductions of 108 postcards of hallucinatory portraits drawn by Madge Gill of her spirit-guide MYRNINEREST. All of the postcards were created by her in the 1940s. Each postcard has been reproduced in its original black and white pen and ink medium, and at the same size (83mm x 140mm; 3 ⅜" x 5 ½") as the original postcard. The book is introduced with a comprehensive essay about Gill's work by Roger Cardinal, an expert on Outsider art and on Madge Gill, as well as a short essay by Tibet and an appreciation by Boxer.
Below are some images from the book. View a wider selection of them in the Coptic Cat photo gallery.
MYRNINEREST is bound in off-white Natuur cloth with a blocked image of MYRNINEREST on the front board; the title of the book, as well as its author and book imprint, is blocked on the spine, and THE SPHERES' logo is blocked on the back cover. The book has printed end-papers featuring two different Madge Gill portraits of MYRNINEREST, coloured head- and tail-bands and a book ribbon. Measuring 135 x 185mm (5 ¼ x 7 ½ inches), and 25mm (1 inch) thick, the paper we have used is an off-white and thick 150gsm Munken Pure paper. The book contains 232 pages, with all images printed on the recto, and with the verso blank, in order to stop any bleed-through of ink and in order to display images as atmospherically and beautifully as possible. We have had the images printed in a way to emphasise the haunted nature of Madge Gill's work and her sidereal æsthetic.
The book is available now from davidtibet.com. It will NOT be available from Coptic Cat.
Our dear friends at Weiser Antiquarian Books in the USA also have copies of the SPECIAL and STANDARD editions available for purchase.
The STANDARD edition's print run is of 250 copies. The head- and tail-bands are white and the book ribbon is white. Each copy costs £25 plus postage and packing.
The SPECIAL edition is limited to 75 copies hand-numbered by David Tibet. Each copy comes with an original abstract drawing of THE SPHERES, drawn by Madge Gill in the 1940s in black ink or in graphite pencil on a postcard (83mm x 140mm; 3 ⅜" x 5 ½"). The SPECIAL edition has a different image of MYRNINEREST blocked on the front cover to that blocked on the STANDARD edition, as well as a different frontispiece. Each copy of the SPECIAL edition contains a tipped-in bookplate signed by the editors, David Tibet and Henry Boxer. The head- and tail-bands are black and white and the book ribbon is black. Each copy costs £93 plus postage and packing. Some examples of the beautiful and magical art on these original postcards which come with the SPECIAL edition are displayed below. See more of them in the Coptic Cat photo gallery.
Thu 03 October 2013
Hallucinatory Cartoonist and Apocalyptic Squatter David Tibet and his Happy 93 Family call for a new mask once again, as Current 93 SingSongs into view for PickNickMagick throughout 2014.
David Tibet, Queen Elizabeth Hall, London 2012. Photograph by Ruth Bayer www.ruthbayer.com.
Current 93 make a rare appearance on Saturday 8 February 2014 at London's Union Chapel, their first live performance in the United Kingdom since 2011.
The event coincides with the release of their new album, I AM THE LAST OF ALL THE FIELD THAT FELL, which will be premiered at the Union Chapel. The new album, on LP and CD, will be available to purchase there for the first time, as will David Tibet's long awaited book of collected lyrics, Sing Omega, which is published on the same day.
Tibet has assembled a remarkable line-up of guests and ghosts for C93's appearance, which is to be revealed, along with further details of the new album, in the coming weeks.
CURRENT 93
plus special guests
7pm Saturday 8 February 2014
Union Chapel, Compton Terrace, Islington, London N1 2UN www.unionchapel.org.uk
£18.50 + booking fee. Tickets available here.
A Qu Junktion http://qujunktions.com/event/current-93

ΑΙΣΦΑΙΡΑΙ